Corporate Business Lawyers
Effective representation. Reasonable fees.
For more than 75 years, Niebler Pyzyk law firm has helped Wisconsin businesses protect assets and plan for financial success. Our trusted corporate attorneys have earned a winning reputation through our commitment to creating positive outcomes without creating financial stress.
Contact Us
For Affordable Help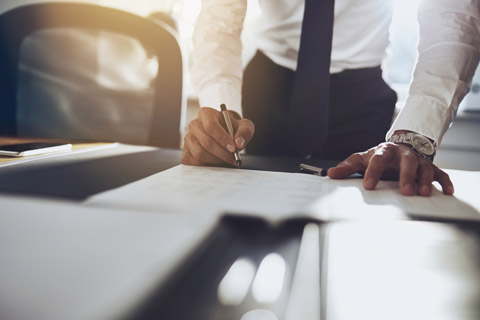 From startups to succession planning, our business attorneys have a winning reputation in all areas of corporate law.
We handle all aspects of business law including:
Commercial Bankruptcy & Creditors Rights
Shareholder and Governance Disputes
From our convenient location in Menomonee Falls, we serve business clients in Milwaukee, Waukesha, Mequon, Brookfield, Wauwatosa, Germantown, Pewaukee, and the surrounding areas.
Cost of hiring a business lawyer
Niebler Pyzyk provides reasonably priced legal services benefiting business owners. We can help, and we can help without creating financial stress.
Our clients get all the benefit of our extensive resources and experience without the sky-high price tags often found at larger downtown firms.
Value of hiring a business lawyer
Every business needs legal help eventually, whether it's dealing with a contract dispute, employee relations, changing tax regulations, or planning a merger or succession.
Niebler Pyzyk law firm handles a wide range of legal matters, and we can provide comprehensive service in practically any legal area a Wisconsin business may be facing.
Our business attorneys are committed to building relationships with clients. We can help you find efficient solutions for pressing problems while laying the groundwork for long-term success and stability.
Schedule a consultation with our Milwaukee business attorneys
Our skilled attorneys handle all aspects of transactional law including delicate corporate restructuring, formation of LLCs, nonprofit tax planning, contract disputes, commercial litigation, bankruptcy, and any other corporate legal matter. Whether you're a small business looking to expand through acquisition, need a skilled defense team for a deal that may have gone bad, or require detailed tax planning assistance, we can help.
Our Menomonee Falls law firm serves the greater Milwaukee area including West Bend, Port Washington, Grafton, Cedarburg, Glendale, Mequon, Germantown, Brookfield, Wauwatosa, Waukesha, Sussex, Pewaukee, Hartland, New Berlin, West Allis & the surrounding communities.
To fully use this site, please enable Javascript