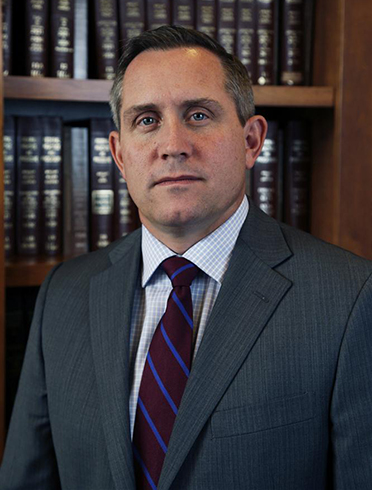 Practice Areas Covered:
Commercial Bankruptcy & Creditors Rights
Appellate Practice
Temporary Restraining Orders
Partner
Mr. Jelenchick represents a wide array of construction and real estate clients, including homeowners, real estate developers, condominium associations, general contractors, subcontractors, construction firms, commercial owners, design professionals and home inspectors.
Attorney Jelenchick creates leverage for his clients using laws available to owners and contractors to find solutions to legal problems before filing suit. He also assists clients in enforcing and protecting their property rights. Mr. Jelenchick handles trials and appeals for his clients. His construction and real estate litigation experience is valuable to his clients in drafting contracts and other legal documents necessary to minimize risk and maximize return. Mr. Jelenchick blends his litigation and transactional experience to serve his clients well in all areas of business contracts and disputes.
Email: mjelenchick@nieblerpyzyk.com
Contact Attorney Get Legal Advice Today
Mr. Jelenchick has argued the following cases before the Wisconsin Supreme Court:
Stuart v. Weisflog's Showroom Gallery, Inc., 2008 WI 22, 308 Wis. 2d 103, 746 N.W.2d 762. Homeowners brought action against remodeler and his company, asserting claims for breach of contract, negligence, and violations of Home Improvement Practices Act (HIPA).
Stuart v. Weisflog's Showroom Gallery, Inc., 2008 WI 86, 311 Wis. 2d 492, 753 N.W.2d 448. Homeowners brought action alleging that home improvement contractor's commercial general liability (CGL) policy covered contractor's liability for misrepresentations that it was licensed and design would comply with building codes.
Apple Valley Gardens Ass'n, Inc. v. MacHutta, 2009 WI 28, 316 Wis. 2d 85, 763 N.W.2d 126. Condominium owners' association brought action against unit owner who leased her unit to a tenant in alleged violation of bylaws amendment prohibiting rental of the condominium units, seeking a declaratory judgment that bylaws amendment was enforceable.
Emjay Inv. Co. v. Vill. of Germantown, 2011 WI 31, 333 Wis. 2d 252, 797 N.W.2d 844.
Investment company brought action challenging village's special assessments on its property.
Mr. Jelenchick has also advocated in the Wisconsin Court of Appeals:
Dawson v. Goldammer, 2003 WI App 3, 259 Wis. 2d 664, 657 N.W.2d 432.
Landlords commenced declaratory judgment action requesting a declaration that farm lease that included residential home was void and terminated by its own terms as a matter of law.
Dawson v. Goldammer, 2006 WI App 158, 295 Wis. 2d 728, 732, 722 N.W.2d 106, 108. Landlord sought appointment of a receiver over tenant to collect litigation costs awarded as sanctions for discovery abuse.
In re Estate of Jacobson, 2015 WI App 43, 362 Wis. 2d 540, 865 N.W.2d 885. Surviving spouse objected to inclusion of cabin in decedent spouse's estate based on error in deed, challenged by non-marital children of decedent.
Mr. Jelenchick also practices in Federal Courts in Wisconsin, including Bankruptcy Court, and in Administrative and Municipal Courts throughout Southeastern Wisconsin.
Areas of Practice
Construction Litigation
Real Estate Litigation
Business Litigation
Litigation Percentage
60% of Practice Devoted to Litigation
Bar Admissions
Wisconsin, 2001
U.S. District Court Eastern District of Wisconsin, 2001
U.S. District Court Western District of Wisconsin, 2001
Education
Marquette University Law School, Milwaukee, Wisconsin
University of Wisconsin-Madison, Madison, Wisconsin
Representative Clients
Honors and Awards
Wisconsin Super Lawyer - Rising Star, 2008 - 2012, 2014, 2015
Martindale-Hubbell AV Rated Preeminent
Professional Associations and Memberships
Practice Areas Covered:
Commercial Bankruptcy & Creditors Rights
Appellate Practice
Temporary Restraining Orders