Wisconsin Construction Contract Attorneys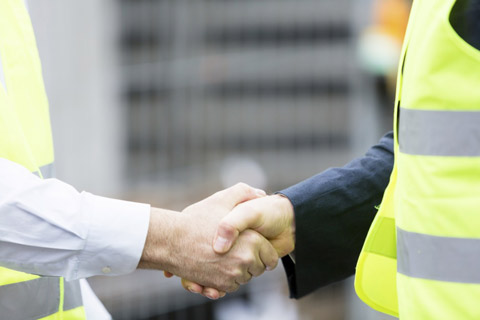 Make sure you understand what you're agreeing to before signing a construction contract.
Wisconsin construction contract attorneys
Construction contracts are highly complex, and examining them can prove confusing and time-consuming without qualified legal support. The highly experienced construction lawyers of Niebler Pyzyk have represented Milwaukee-area businesses and individuals in the negotiation and formation of construction contracts since we first opened our doors over 75 years ago.
We evaluate and explain construction and real estate contracts in plain English for our clients, and negotiate for terms and conditions to protect individual or business interests.
Contact
Construction Contract Lawyers
Construction contracts for Milwaukee-area homeowners
All construction agreements contain basic elements covering who participates in the construction work, the scope of the work, and a construction schedule. Whether you're building a home or simply remodeling one room, defining your construction relationship with a professionally drafted contract will help ensure a smooth process and a successful outcome.
Our construction lawyers can also represent your interests in any disputes under any construction contract you are a party to and help you understand what your contract guarantees in plain and simple terms.
Retainage in construction contracts
Retainage refers to a portion of the contract price which is withheld by agreement until work is completed and the contractor's obligations have been satisfied. Requiring a retainage provision in a construction contract can benefit owners in significant ways, including protecting the owner against defaults or claims arising as the project nears completion.
Construction projects are highly involved and it's almost a given things will never go entirely according to plan. Due to unforeseen circumstances, the contractor may be unable to finish the job or pay subcontractors or suppliers. Examples include:
Sudden draining of assets due to an outside event
Fraud or mismanagement
Contractor's death or disability
Divorce, bankruptcy, or other action which disables or freezes the contractor's assets
Release of the retainage at project completion functions as an incentive to ensure timely and quality work, and it can also fund any deficiencies or unpredictable work problems. Contract clauses can also be included to allow a gradual reduction of the retainage as work progresses.
Commercial construction contracts
Every construction project is unique, and there is no "one size fits all" construction contract. Business owners or operators are wise to have a lawyer review the contract before any commitments are made. Attorneys at Niebler Pyzyk have an in-depth understanding of construction and real estate law and are able to negotiate and tailor AIA form contracts and other commercial construction contracts to fit the particulars of your construction project, helping to avoid confusion, pitfalls, and unexpected costs down the road. An experienced construction law attorney can recommend provisions to address important issues and scrutinize any qualifications or clauses which may leave you vulnerable.
The exceptional breadth of our industry knowledge and extensive experience in construction and banking law makes it possible for us to identify or create the right solution for any real estate financing matter.
Construction lawyers for owners and builders in Milwaukee
Because construction law encompasses employment law, business law, and real estate, you need a law firm with extensive experience to address all of your construction contract concerns. The attorneys of Niebler Pyzyk can help you maximize your investment into the contract and the improvements to be done and minimize any potential, legal liability that could come from the construction project.
Request a legal consultation online or call today to meet with an experienced construction contract attorney.
We serve the greater Milwaukee area from our convenient Menomonee Falls location including Waukesha, Brookfield, Glendale, Mequon, Germantown, Grafton, Cedarburg, Wauwatosa, Hartland, Pewaukee, Sussex, New Berlin, West Allis, West Bend, Port Washington & the surrounding communities.
To fully use this site, please enable Javascript